While the crypto winter chills trading activity in its home market, Coinbase wants potential clients in Europe to give them a warm welcome. However, extending into Europe might not be sufficient to turn around the company's fortunes.
The publicly traded U.S. cryptocurrency exchange closed the majority of its Japanese operations on Tuesday morning after further 20% personnel reductions. In order to realign its efforts while battling the bear market's challenges, it also laid off 18% of its workforce last summer.
Coinbase wasn't always having trouble
Coinbase was riding high on the mainstream adoption of cryptocurrencies at the end of 2021. Investors who had never purchased a bond or made a stock market investment came to the cryptocurrency exchange to trade popular tokens like ether, bitcoin, and dogecoin.
The company's flood of clients contributed to 2021's revenue and profit records. Monthly active users on the platform increased over 300%. In that year, Coinbase's sales surged to $7.8 billion.
However, a significant stablecoin crash rocked the cryptocurrency market in May, sending the price of bitcoin to a new two-year low and forcing investors to withdraw their money from centralized exchanges like Coinbase. The decline became much more pronounced after rival FTX's collapse in November.
The flight of traders from the market has posed a serious existential danger to Coinbase, which derives almost 90% of its income from trading commissions. The business might not last if there isn't a constant flow of new customers.
The European Union is planning to pass the Markets in Crypto Assets (MiCA) Regulation, a standard framework intended to govern cryptocurrency trading throughout the European Union's 27 member states. This is why the company believes its only hope at the moment is in Europe. In order to maintain its very user-dependent revenue model, Coinbase hopes to discover new traders in Europe.
Before MiCA was likely to be passed and implemented, Coinbase started to grow into markets like Italy, Spain, France, The Netherlands, and, outside of the EU, Switzerland. Coinbase believes that a more stringent regulatory climate in Europe will offer it an edge over its privately held rivals and make it easier to carry out its aim to increase market dominance.
According to Nana Murugesan, vice president of international and business development at Coinbase,
It's almost like an existential concern for us to make sure that we are able to accomplish our objective by increasing our expansion efforts.
Murugesan is leading the company's expansion throughout Europe with the help of five regional directors who are in charge of managing business in each brand-new location.
However, Coinbase will probably run into difficulties in its attempt to gain a larger market share in the EU.
This is due to the possibility that the legislative change on which Coinbase is relying may not impose stringent enough regulations to restrain the activities of other exchanges in the area. Rivals like Binance and Crypto.com, which have used their affordable fees and specialized trading services to forge solid footholds in Europe, pose a significant threat to Coinbase. Coinbase may need to gather the funds to expand its nascent futures trading offering, which presents larger regulatory concerns than other kinds of trading, and lead additional measures to attract European consumers as the company struggles with dwindling sales and a plummeting share price.
The ability of the exchange to charge a continual stream of new traders substantial fees to execute cryptocurrency transactions makes or breaks Coinbase's present income model. But during a protracted market slump, those traders are among the first to leave the market, according to Lisa Ellis, a senior equities analyst at MoffettNathanson LLC:
A lot of those [beginning] retail investors kind of fall into hibernation when prices are low and you're in a crypto winter
According to experts surveyed by FactSet, Coinbase's revenue for 2022 is anticipated to decline by about $3.2 billion, or 59%, from the previous year. The company anticipates year-over-year revenue declines and losses of up to $500 million before interest, taxes, amortization, and depreciation in 2023.
The company's declining user base has contributed to Coinbase's declining revenue and earnings. Coinbase reported 8.5 million monthly active users in the third quarter of 2022, down from 9.2 million in the first quarter. What's more, fewer people are trading on the site overall.
 

Trading volumes have been noticeably migrating to Europe since the start of the crypto winter earlier this year

-Lisa Ellis
According to a letter that Coinbase sent with its shareholders late last year, monthly trade volumes fell by more than 50% in the U.S. from January to September 2022 compared to just 18% globally over the same time period.
According to Daniel Seifert, vice president and regional managing director of Coinbase's EMEA [Europe, Middle East, and Africa] division, these increased foreign trade volumes, along with the sheer size and population of the European Union, encouraged Coinbase to make a push for European markets.
As he mentioned,
With eight billion people on the earth, only roughly 300 million live in the United States. We want to ensure that we succeed in EMEA because we believe it has a distinctive global lighthouse character.
According to Seifert, the region is now favorable for Coinbase to establish a presence throughout the EU as a result of the EU's potential implementation of MiCA laws. If lawmakers approve the legislation in February, they should take effect at the beginning of 2024.
He continued:
As publicly listed companies we already have and have had for a very long time, a very, very high level of transparency. Having independent auditors who regularly, every quarter, look at our financial statements, our accounts … is probably one of the strongest things in terms of [securing regulatory] approval that you can have.
Competitors and Laws
But there are obstacles in the way, and Coinbase isn't the only exchange stepping up efforts to gain market dominance in the EU.
The two largest exchanges in Europe by daily trading volume, Binance and Crypto.com, already provide services to customers in Coinbase's target regions, where they have occasionally functioned without permits.
Both exchanges are currently attempting to get regulatory licenses, or at the very least provisional permissions, in those markets and beyond. Binance secured its eighth regulatory approval in the EU this week when Swedish regulators gave the company the go-ahead.
Although privately owned Binance, Crypto.com, and other companies fight to keep media attention away from their murky corporate structures and financials as well as their reputations for breaking rules in the past, Ellis predicted that publicly owned Coinbase may prevail in European markets.
Coinbase stands out from its rivals in a significant way thanks to the fact that it always complies with the law, according to Ellis, and this should help them rise to the top.
That is particularly true in light of the FTX collapse in November, which raised regulatory scrutiny of cryptocurrency exchanges and traders' concerns about the assets behind those exchanges.
However, it's still unclear if Coinbase's improved connections with regulators would be enough to persuade European clients to store their funds on the company's platform. While Coinbase charges a flat fee ranging from 99 cents to $2.99 for transactions up to $200 and a percentage-based fee of up to 3.99% for transactions above $200, Binance charges a trading fee of 0.10% for the majority of transactions.
Given that Europeans' wages are still being severely affected by excessive inflation, these additional fees may deter new users from joining the exchange.
Additionally, Binance has a derivatives trading operation; Coinbase does not in Europe, which could be a disadvantage for Coinbase. According to data provider CryptoCompare, derivatives trading already makes up more than 60% of all cryptocurrency trading transactions, and this percentage may increase during a market slump.
Even said, Coinbase may have an advantage because to the EU's new cryptocurrency legislation, which may empower authorities to clamp down on the trading of crypto derivatives in the continent. There is some evidence that large countries would seek to use MiCA against retail usage of derivatives since it provides individual national regulators the authority to prohibit crypto goods they deem hazardous.
In a letter to European authorities this year, the International Association for Trusted Blockchain Applications (INATBA), a non-profit advocacy group for blockchain technologies, stated that derivatives based on crypto-assets are one important area where such inconsistency can emerge (under MiCA). "It is unclear whether the instrument would be a financial instrument or a crypto-asset across all EU member states in circumstances when a derivative product refers underlying assets that are settled in crypto-assets rather than in fiat currency."
Coinbase also falls behind its rivals in terms of the amount it spends on advertisements in the area, which means it will need to spend more to catch up with them and gain market share. According to market research firm Sensor Tower, Crypto.com spent almost $2.5 million on advertising in the United Kingdom in 2021, compared to Coinbase's spending of approximately 5%.
Although laws on crypto advertising make it challenging to plan advertising campaigns in some European areas, such as the U.K., which is not a member of the EU, Coinbase declined to say how much it will spend on advertising for its most recent Europe push.
Nevertheless, some investors are skeptical that Coinbase would be able to devote the funds required to support its development into Europe, according to Chris Brendler, a senior equities analyst at D.A. Davidson Companies. Crypto winter has significantly reduced the company's profit margins.
According to Brendler,
[Many people] are of the opinion that cryptocurrency trading volumes are collapsing, and those volumes comprise 90% of Coinbase's revenue, and they have this tremendous expenditure base."
Concerns exist regarding both the company's financial stability and earnings.
In 2022, Coinbase stock fell by over 86%, compared to a 19% decline in the S&P 500 during the same time period. The stock is now trading at $43, up from last week's record low of $31.55. After a lucrative first year as a public company in 2021, Coinbase reported a per-share loss of $2.43 in the third quarter of 2022, indicating the company is declining.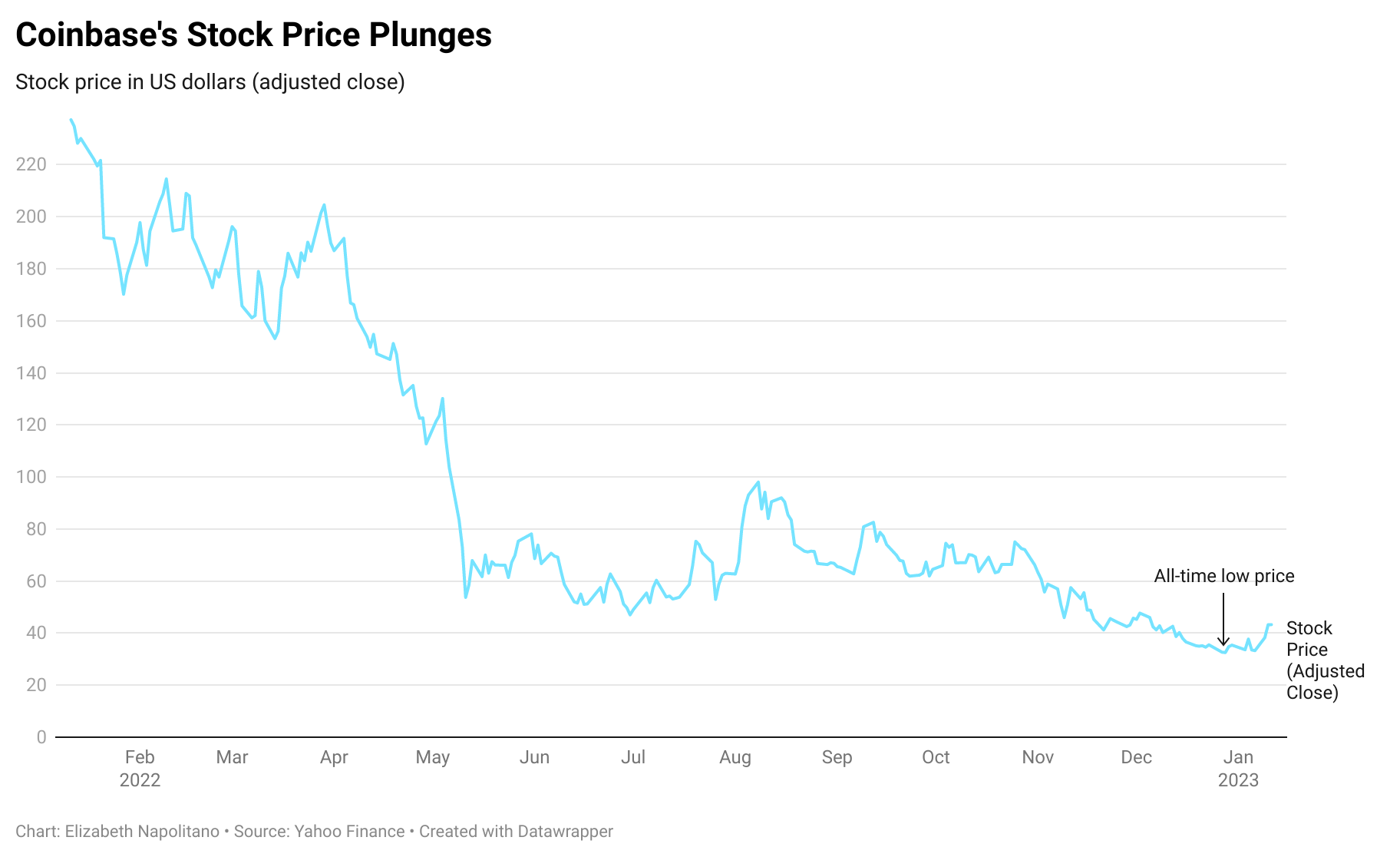 Gains from Stablecoins
However, despite the fact that things on Wall Street appear bleak, there is one encouraging development. Due to its collaboration with stablecoin issuer Circle, Coinbase may be able to increase its revenue in a down market. The recent decline in cryptocurrency values and rise in market volatility have raised investors' interest in stablecoins, which are designed to maintain a relatively stable price and are tied one-to-one to the U.S. dollar or another asset.
Through the net interest income generated by the short-term Treasurys that support the Circle-issued USD currency, Coinbase's stablecoin offering will allow the company to generate more money, which might assist the exchange in obtaining the necessary funding to support some of its European expansion.
Coinbase is also promoting the adoption of USDC on a worldwide scale by lowering entrance barriers like by waiving fiat-to-USDC conversion costs.
The alliance might be very successful in Italy, as it might be in other regions of Europe.
Italian cryptocurrency trader Marco Gallazi, who runs the cryptocurrency trading blog "Mind the Chart," claims that Europeans like stablecoins tethered to the U.S. dollar over those pegged to the euro, therefore Coinbase's zero-fee USDC incentive is likely to draw some of their customers.
We prefer pegged stablecoins at the value of the dollar instead of using the euro as our foundation currency. There is less liquidity in euros, and changes are harder to predict.
According to a European Central Bank survey, most European cryptocurrency investors have avoided the 0.2% of trading volumes made up by stablecoins denominated in euros.
However, a clause in the current version of MiCA could place restrictions on the issue of USD-backed stablecoins, limiting Coinbase's ability to profit from its Circle cooperation and incentive-free stablecoin program.
However, according to Seifert, Coinbase is prepared to handle any unforeseen changes to the regulatory landscape and would modify its strategy accordingly.
Seifert stated,
Our teams are going over the draft legislation we now have and are analyzing all of that and kind of going literally line by line and seeing what kind of changes we would have to make to be in compliance.
Related
FightOut (FGHT) – Move to Earn in the Metaverse
CertiK audited & CoinSniper KYC Verified
Early Stage Presale Live Now
Earn Free Crypto & Meet Fitness Goals
LBank Labs Project
Partnered with Transak, Block Media
Staking Rewards & Bonuses